Awesome Software, Amazing Support,
The solution you've been looking for.
Warm Room Hero the flexible, streamlined, and sustainable solution for your curling club.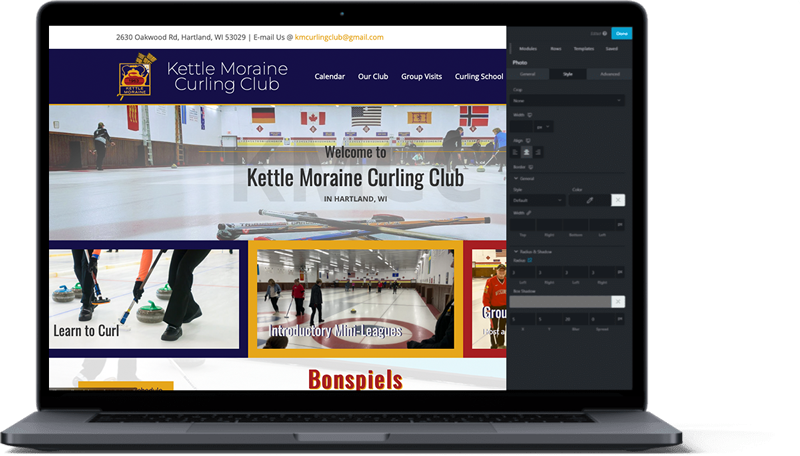 What's a reverse feature list?
Our software is so incredibely flexible, it is far easier to name what it can't do than what it can.
Below is a list of things it can't do.
A typical smartphone has approximately 75 apps installed on average. But not all of these apps are fully utilized. As a matter of fact, the majority of mobile time is spent using just three apps.
A mobile app is currently on our roadmap, but there is not currently an estimated ship date.
We don't offer a solution for live-streaming games...yet.
When Kettle Moraine Curling Club wanted to build out its digital communications tools to support the continued growth of its membership, Warm Room Hero was the perfect choice for a partner.  In Warm Room Hero, KMCC had a principal who knew the sport of curling both as a club member/curler, but also as a facilitator and manager of club activities.  Warm Room Hero brought a website platform that KMCC members and volunteers could take use as the foundation on which to build our specific content and messaging.
Warm Room Hero provided training as necessary, but many of the solutions were intuitive and repetitive in various parts of the web programming interface.  Today, KMCC website continues to evolve, but our membership is up over 20% in 2023 and we're better managing our volunteer opportunities and contributions than ever before.
Steve Everett, Jr.
KMCC Treasurer, Board Director
Year-one Pricing
Monthly
$200
/ month
Annually
$2,000
/ year
Year-two Pricing
Monthly
$150
/ month
Annually
$1,500
/ year
Year-three Pricing (and beyond)
Monthly
$100
/ month
Annually
$1,000
/ year